GUARDIAN RFID inmate identification solutions are faster, more durable, and more capable.
Visually and electronically identify and manage your inmate population on every budget.
RFID Wristbands.
RFID wristbands enhance security and point-of-contact identification and activity logging. Economical and easy to use, RFID wristbands are difficult to remove and swap.
RFID Cards.
GUARDIAN RFID Cards are plastic badges that can have a longer useful life than wristbands, sometimes resulting in a lower replacement rate than wristbands. RFID Cards support larger mugshots to see identifying information from greater distances than wristbands.
Why Not Use Barcodes?
GUARDIAN RFID has a number of advantages over barcodes: ease of use, read speed (20x faster than manual or barcode scanning), and durability. Barcodes have a number of disadvantages, and here are three examples:
1. Barcodes can fade and become easily unreadable in a short period of time – especially in corrections.
2. Barcodes can be more difficult to scan because they rely on clear line of sight; a barcode can also be convex – where the lines on the barcode partially wrap around the inmate's wrist, making it difficult and time consuming to auto ID the offender.
3. Barcodes can be easily duplicated – potentially undermining data integrity.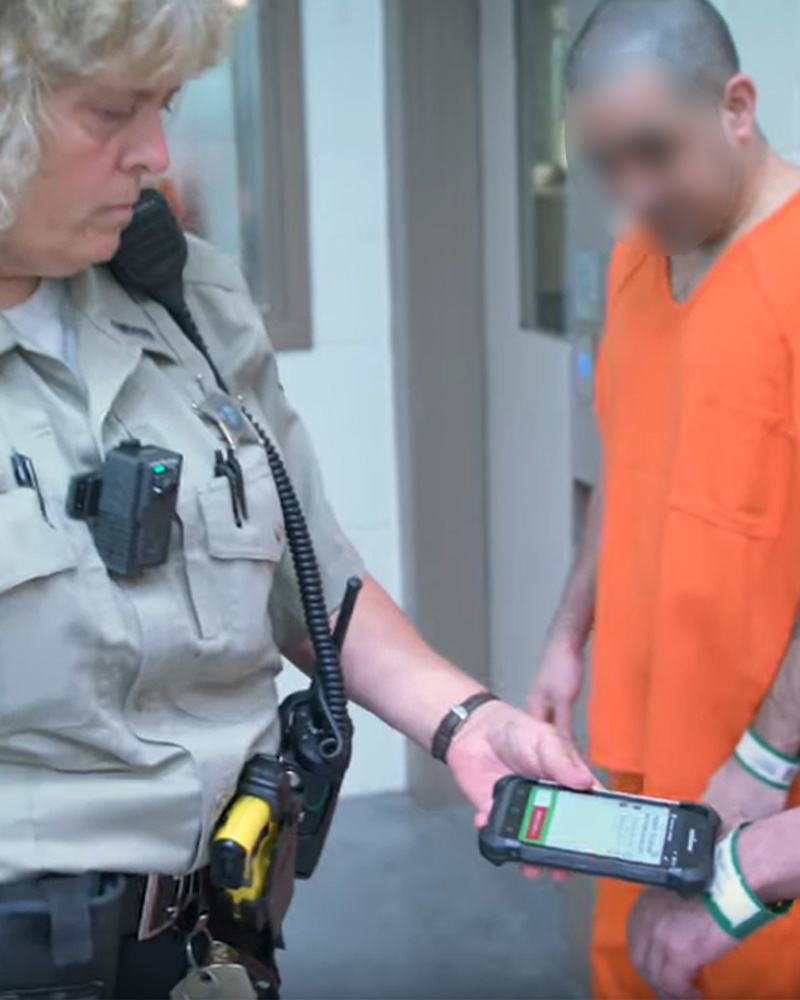 Solution Capabilities
Physical Features
Print name, booking number, date of birth, mugshot, and other data onto armband insert or ID card

GUARDIAN RFID waterproof armband labels (individually perforated) prevent ink smudging and easy separation

Full-color, high-yield wristband label printing

Metal and plastic fasteners supported
Electronic Features
Cloud-based RFID wristband and ID Card activation support via GUARDIAN RFID OnDemand

Internal security prevents inmates from being able to be associated with more than one active RFID armband or ID card

Perform RFID Wristband or RFID Card Headcounts via Mobile Command and electronically verify inmate attendance instantly

Wide range of inmate activity logging, inmate movements, and medication passes integrate support for RFID wristbands or RFID Card
Find out more. Pros/Cons, Pricing & Tips.
Check out this blog that breaks down wristbands vs. ID cards, the pros and cons of each, pricing, and tips for maximizing your inmate identification goals.
Maximize Inmate Identification Success
If you're considering an upgrade to an electronic inmate identification solution. Check out this blog!