Take Reporting to the Next Level with insights you never thought possible
Data collection is the starting point, not the destination.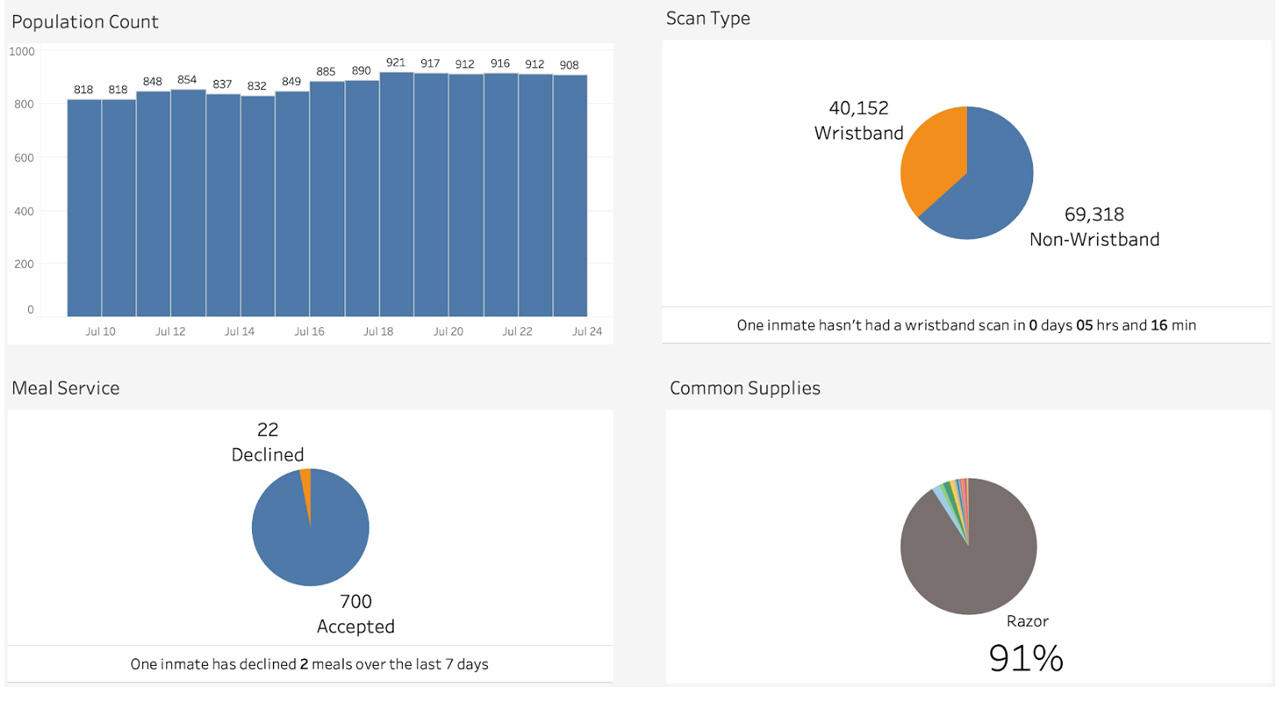 Dashboard
With Operational Intelligence, gain real-time actionable intelligence with dozens of pre-built and fully customizable dashboards to analyze staff performance, inmate management, inmate behaviors, and more.
Every time your officers scan an RFID wristband or Hard Tag they are capturing valuable data sent securely to our Cloud. Operational Intelligence runs advanced data analytics and spits out pure gold: round compliance percentages, round speed analysis, round randomization analysis, meal refusal predictions, disproportionate supply passes, and much more.
How fast can Operational Intelligence display diagnostic analytics? How about 1 million activity logs in under 7 seconds fast, empowering you to make data-driven decisions from anywhere.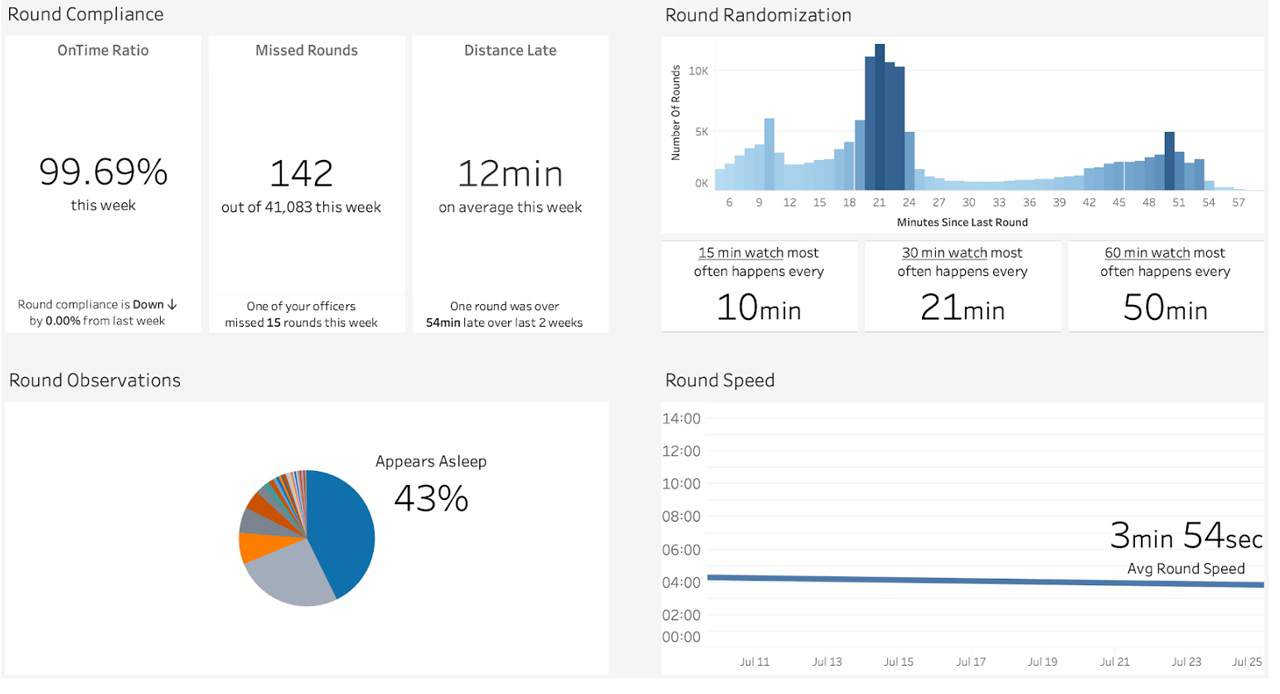 Compliance dashboards visible by all staff tells a quick story
Staff can see what's happening in a single, centralized feed securely accessed from any browser, any device. See your on-time percentage in real-time.
Officers need to do their rounds on-time, but you don't have time to sit behind a desk and pore through pages of logs, or hundreds of digitally captured, time-stamped breadcrumbs. Operational Intelligence analyzes a day's worth of security checks faster than a sip of an Espresso round from Black Rifle Coffee. Prove it? Done. We'll bring the coffee, too.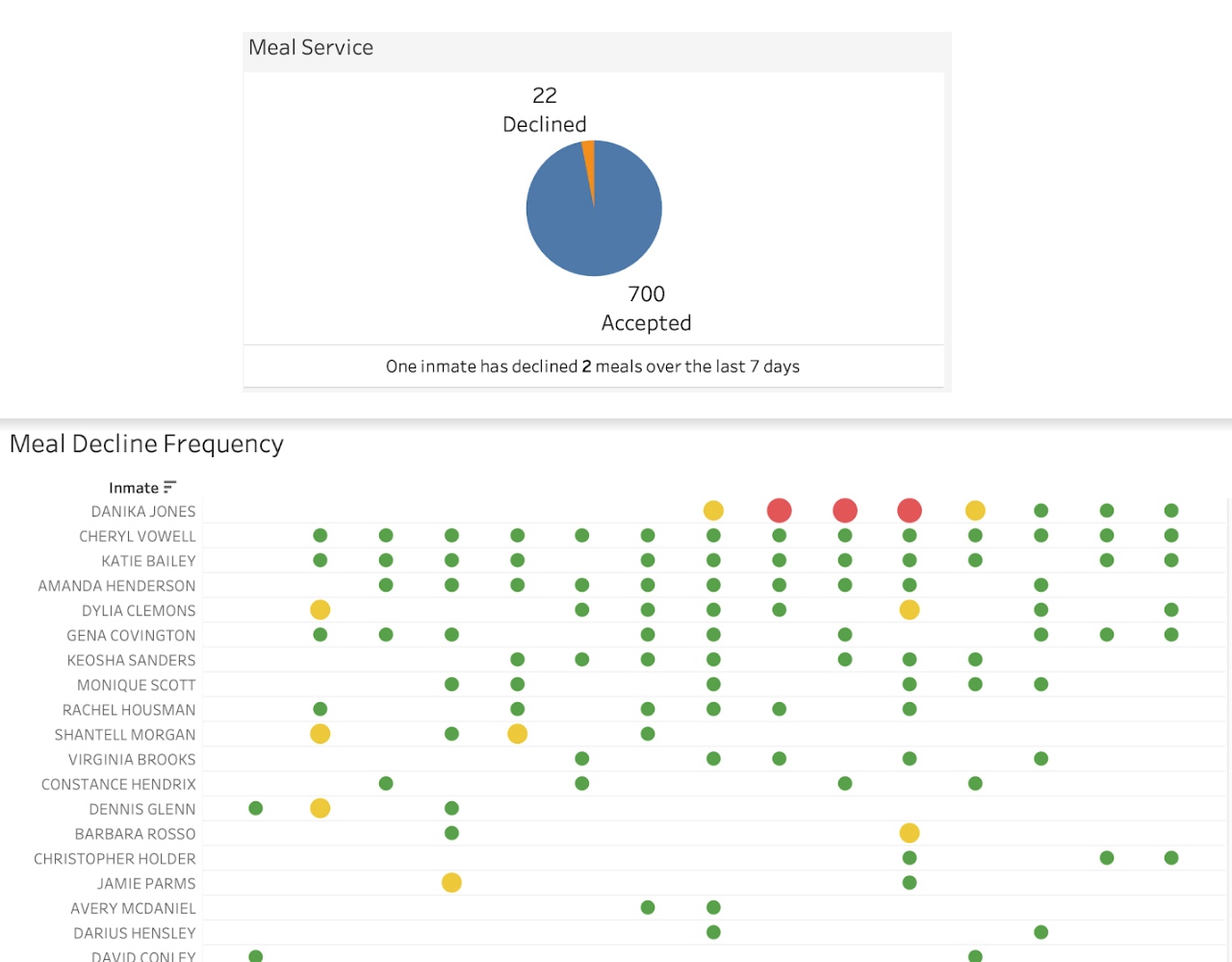 Meals being refused? Be alerted instantly.
You have one mission as a corrections professional: care, custody and control. Part of caring for your inmates is ensuring that they get fed. Whenever an inmate refuses 9 meals in a row, you should know about it instantly. Operational Intelligence shows you meal refusals in real-time. You can elect to receive email alerts whenever an inmate refuses too many meals.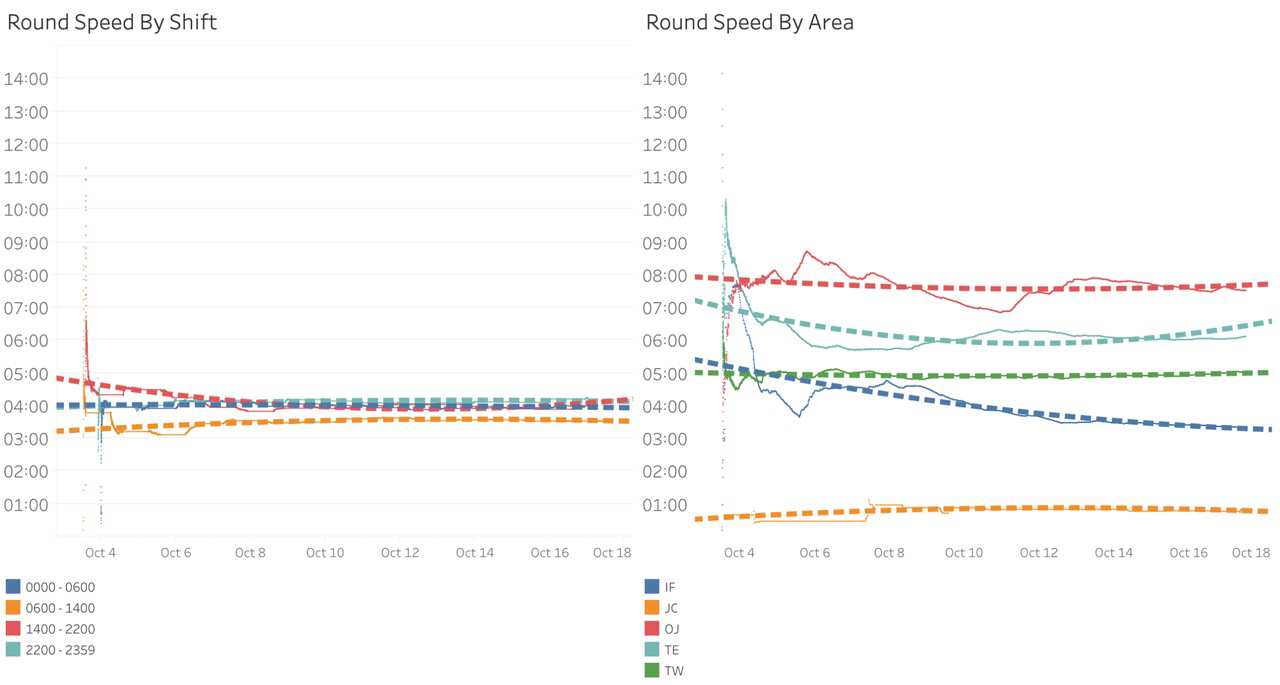 Predict officer behavior.
Ever have the feeling that your officers aren't actually looking in windows during their rounds. Operational Intelligence can't fix human nature, but it can apply artificial intelligence to your rounds, unlocking insights into how quickly your officers do rounds, and how well they randomize their rounds.
Operational Intelligence predicts how quickly certain officers conduct their rounds, and give you practical directives for your next shift briefing.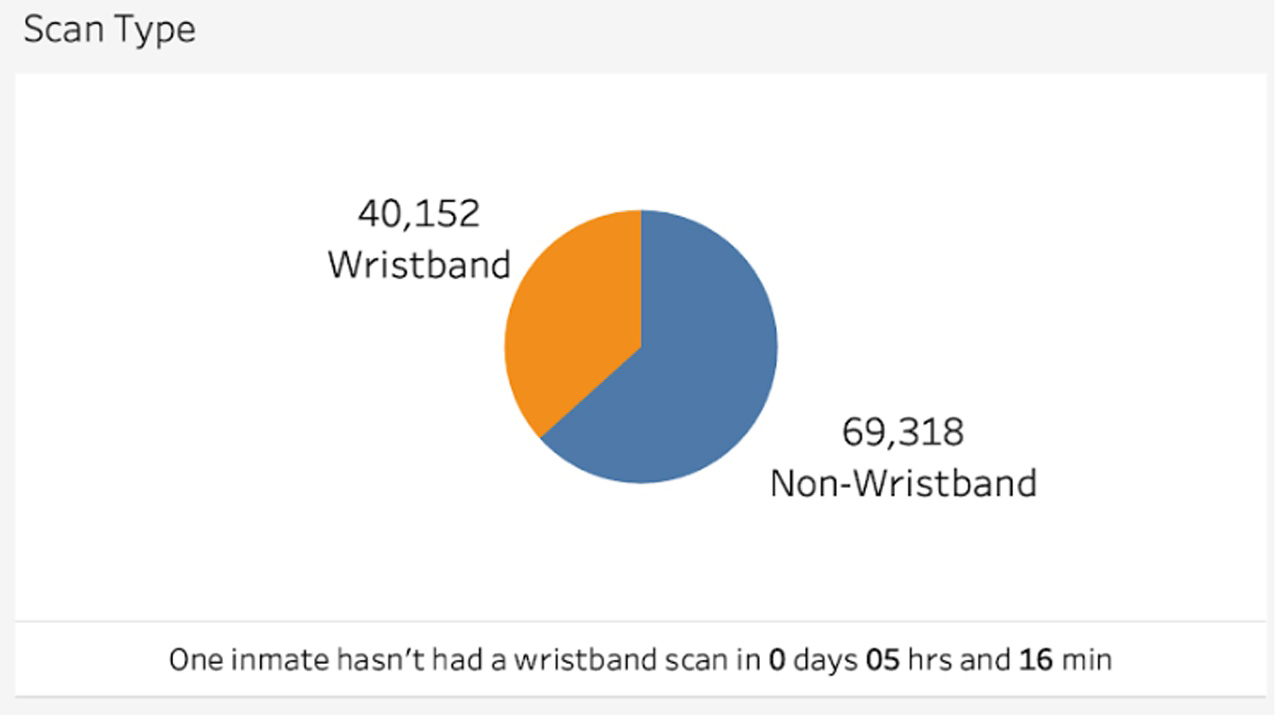 View Scan Types
How many activities are being scanned using wristband versus non-wristband activities to prove point of responsibility?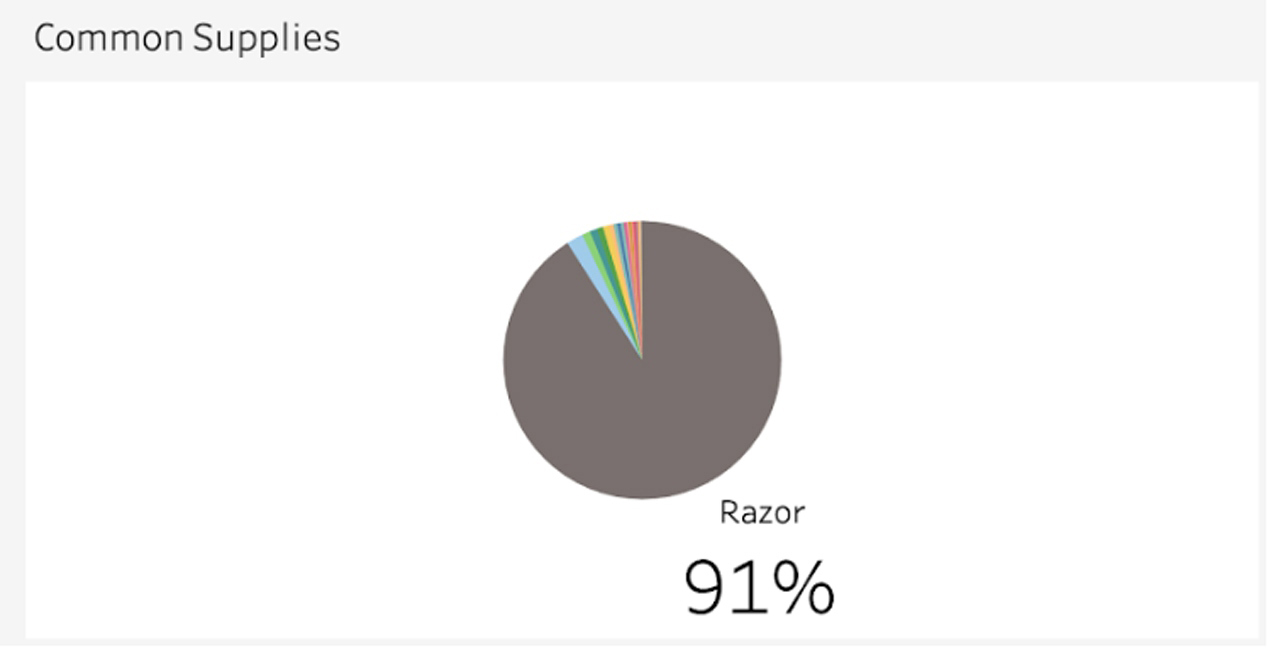 Supplies
What are the most Common supplies being passed to inmates, and how might that help you with the procurement of supplies?